Thought for the Day:


""

Paramahamsa Omkarananda Saraswati
Omkarananda Kunja Shishu Niketan, Agrakhal
| | |
| --- | --- |
| Date of Foundation : | 1989 |
| Classes : | Nursery to Class IX |
| Strength : | 170 Students |
| Teaching Staff : | 9 Teachers |
| School Timing : | Summer: 8:00 am to 12:30 pm |
| | Winter: 9:30 am to 4:00 pm |
| Catchment Area : | Up to 4 km, 1 hour walk one way |
| Extracurricular Activities : | Dramatics, Dance and Music. Sports. Students participate in the Annual Kunjapuri Festival during Navaratri |
This first Omkarananda Hill School was adopted in July 1989. It is located in a beautiful place on an altitude of 1461 m along the Rishikesh-Gangotri Road, 30 km North of Rishikesh. Being situated near the Kunjapuri Siddha-Peeth, the School has been named after Kunja-Devi. The School building is situated next to the main road. Inside, the classrooms and courtyard have spectacular views of the terrace fields and mountain ranges. The local cultivation here is wheat, rice, cucumber and ginger.

Back in 1989, the people of Agrakhal requested Swami Omkarananda to cater to their needs for a Basic School. With the blessings, help and financial assistance of Swami Omkarananda, the School grew very rapidly. Today, as a recognized body, the School enjoys a great reputation for providing an excellent learning experience for the children. The School has later added the introduction of Junior High School Classes. It is now providing quality education from Nursery Classes up to Classes IX for the benefits of the village-children from a radius of 4 km. The School takes pride in its emphasis on arts: harmonium, dance, Garhwali, Rajasthani and Hindi songs and drama.

Children also participate in dance performances during Navaratri celebration at the nearby Kunjapuri Temple.

The School Manager, Mr. Surendra Singh Kandari, is a very dedicated and forward-looking man. He is also the Manager of the Omkarananda Schools in Jajal, Naur and Duadhar.


| | |
| --- | --- |
| | |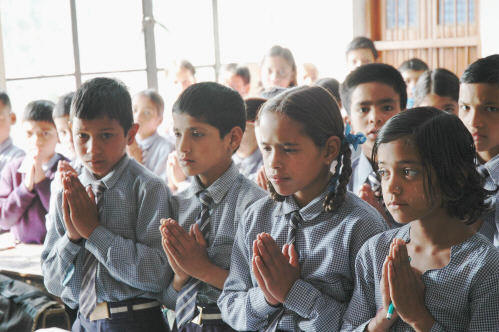 The School Principal is delighted about the overall uptrend of student enrolment.
He has a board on his office wall that neatly charts annual enrolment
since the inception of the School.

The School Principal has introduced computer education in the School. Qualified teachers provide education
in all Microsoft Office applications such as MS Word, PowerPoint and Excel.
tehri garhwal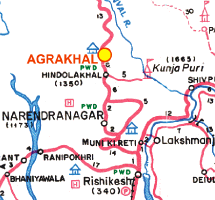 Geographic Information
| | |
| --- | --- |
| Altitude: | 1461 m |
| How to reach: | On the Rishikesh-Gangotri Road, 30 km from Rishikesh |
| Location: | Along the Main Road |
| Holy Places: | Kunjapuri Temple at 11 km from Agrakhal |
| Cultivation: | Wheat, Rice, Cucumber, Ginger |