Speech by H.H. Shri Swami Vishveshwarananda Saraswati,
President Omkarananda Ashram Himalayas,
on the Occasion of Maha-Shivaratri Celebrations
in Omkarananda Ashram Himalayas, on 13th February 2018
Dear Friends,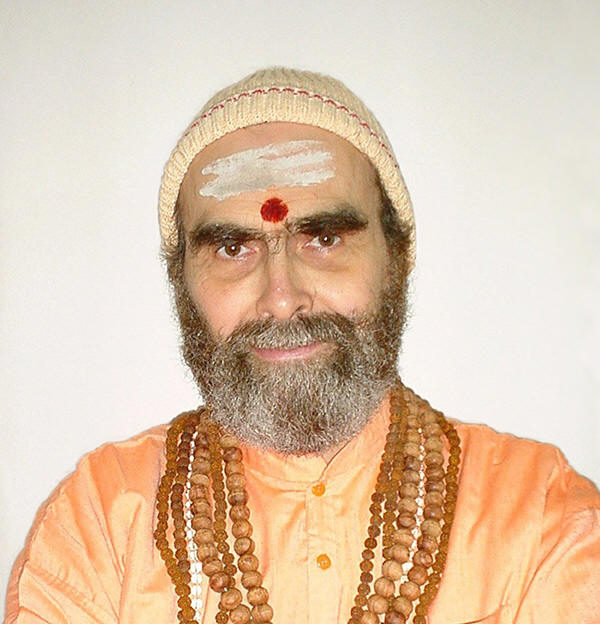 It is my heartfelt wish that Omkarananda-Kamakshi-Devi, Lord Shiva, which is all one and the same, shall enter into your Heart, give you peace, harmony, power, perfection and strength for a blessed long life, so that we make progress in our life and learn to understand, that our life is here only for Realisation of the Truth and nothing else.
Let us pray and take the help of Lord Shiva; He may take us out of this delusion in which we are living, in this area of Maya, in which we are completely caught up. With His help and with the help of our prayers, and the company of such great personalities like Swamijis, whom you are seeing here, we can overcome the delusion of life.
We have to work hard, because life is very short. We have to use our time to make progress before it is too late, we have to realise that the importance is, that we are becoming one with our True Self.
The Divinity is not anywhere else, Lord Shiva is not anywhere else to find. Lord Shiva is directly here in our Heart. The difficulty is, that with our senses we are totally caught up in delusion, we are blind to that, what we actually are.
So, it is very important to know, that whatever steps we are making towards Him - in form of prayers, in form of good works, in form of purified life - will have an effect; if we are making one step towards Lord Shiva, He makes two steps towards us.
But we have to try, and we have to feel, that He is here. Let our feeling, thinking, acting always be in His presence.
It is such a Grace that people are being born in this holy country, where religion, or the Vedic system, is a part of our daily life. So, we should use this golden opportunity, which is in front of us. Nobody knows, where tomorrow you are born; so it is very essential to be always in close touch with great Saints, with Sadhus, with Wise Men, so that we are affected through them, that we take their knowledge, that we take their blessings.
But we have to work very very hard.
Dear Friends, very important is, that we try to live a life of utmost purity. Always we should keep a prayer in our Heart. Our thinking should be focussed on the Divine constantly. Lord Krishna once said very beautifully: "See me in everything and you will become me."
Wherever we see, we always see objects, which are going to die out. We should see something, which never dies out. We should see the Supreme Reality. Once our heart is filled with this great Joy, with this divine Light here, then all the sorrows will go.
Dear Friends, we have to strive intensely for Realisation, for absolute Liberation. Unless and until we are not liberated from that cycle of death and birth, we do not know where tomorrow we are born. So, it is very important to live a spiritual life, to live a divine life, to live an honest and sincere life, full of Devotion to the Divinity. Always pray, always worship.
We should also not forget that the most important thing in our life is to be always attached to the Guru.
And once you are blessed by the Guru, be faithful to Him, because He is the only link between the Divinity and you. He is the Divine Himself. So, if we can speak directly to the Guru, it is like speaking to the Lord.
Important is also to worship, to visit Temples, to see the Murtis. The Murtis are not just like stones. They manifest a particular Deity, which we try to worship.
Dear Friends, my humble wish is, that Lord Shiva should be always with you, should give you Peace, Joy and Happiness and specially give you the Power to always focus on the Divine Life.
Any life outside a Divine Life is very dangerous. The world itself is in a critical situation. The only way out, the only help, is not any war, any weapon, or anything; the only way out is a pure Divine Life, a real Divine Life.
It is the Divinity only, Who can solve the problem, never the human individual!
Thank You, thank You, thank You very much.
Swami Omkarananda Maharaj ki Jay!
Swami Vishveshwarananda Saraswati
Note: This speech, preceded by a short Temple Dance, can be seen in YouTube and also in the Website of Omkarananda Ashram Himalayas under the subject "Videos".