Report on
Concluding Function of Omkarananda Mahotsava,
at Omkarananda Gayatri Sadan, on 1st January 2015
Report written by Shri D.K. Varshney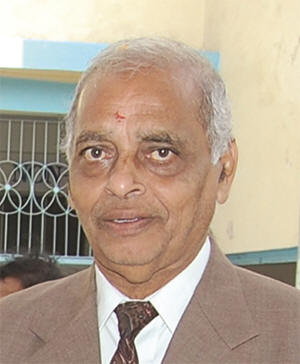 The murmuring sound of the flowing stream of Mother Ganga, the picture of Swami Omkarananda, well decorated with flowers on an extraordinary beautiful platform, sweet sound-waves of music, pleasing to the ears, the charming devotional Temple Dance of Kumari Somashekhari and the joyous and divine Presence of Swami Vishveshwarananda, with his unfailing devotion to his Guru Paramahamsa Omkarananda Saraswati and his heart-touching reverential remembrance of Him, was filling the environment with such wonderful Grace that all present on this occasion, i.e. 1st January 2015, the concluding day of Omkarananda Mahotsava, were overwhelmed with divine emotions, making their lives meaningful and fruitful.
The wonderful chanting of Mantras by the Omkarananda Ashram Temple Priest, Shri Suresh Joshi, and the students of Omkarananda Gayatri Ved Vidyalaya during a special Yajna in Honour of Gurudev Paramahamsa Omkarananda Saraswati was rendering the atmosphere divine. Swami Vishveshwarananda and Kumari Somashekhari also took part in this grand Hawana and offered Ahutis and Purnahuti.
Absorbed like Meerabai, Kumari Somashekhari created an atmosphere of ancient Temples through her classical dance performances, which actually made all present feel a natural divine Happiness.
On this occasion Shri I.D. Joshi expressed his views and thereby graced the function.
While appreciating Swami Vishveshwarananda, Shri D.K. Varshney told, that Swamiji feels contented and happy because of his complete surrender to his Guru and paying Him the supreme regards. He said, that even if one would search a lot, one would not be able to find a person with such a noble and sincere heart like Swamiji. Swamiji is always cheerful and anger could never even touch him. In fact he is a divine person, the true and trustworthy disciple of his Guru, being engaged wholeheartedly in accomplishing His dreams, the realisation of His vision. Swami Omkaranandaji wanted dissemination of education in the less resourceful State of Uttarakhand. That is why Swami Vishveshwarananda has been continuously working for the upliftment of education and spirituality of this area. He has been realising his Gurudev's vision by opening many schools in remote places of the Himalayan Hills. Shri D.K. Varshney wished a long life to Swami Vishveshwarananda and further on Gurudev's Blessings to continue to work for His mission.
Shri S.L. Singh, retired Professor of Vedic Mathematics, also expressed the same views and assured to render his services to Omkarananda Gayatri Ved Vidyalaya.
Swami Vishveshwarananda offered his gratitude to all present there and thanked Kumari Somashekhari for her extremely delightful dance. He was full of praise for the students for their chanting of melodious Mantras in Sanskrit.
The Principal of Omkarananda Gayatri Ved Vidyalaya and his students expressed their heartfelt and sincere thanks to Swamiji for providing all facilities to them. They honoured Swamiji by offering him a shawl and a mala and presented a mala to Kumari Somashekhari.
After the programme, Guru- and Ganga-Arati were performed and the scene of offering flowers to Gangaji, after Arati, was indescribable. It was indeed providing an experience of an exceedingly wonderful divine Bliss.